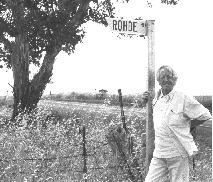 Rated 5 Stars
by allmusic.com

The true gift of Bryce Rohde's original compositions comes alive in this inspired, live performance. Rohde delights in liberating joy and reflection toward surprise encounters, which, with Joe Carroll's liquid bass and Lee Charton's deft percussion, at once feed the mind and heart.

Bryce Rohde, piano
Joe Carroll, bass
Lee Charlton, drums
To Order Short Way Home
5 STARS for
SHORT WAY HOME
by the
Bryce Rohde Trio
"Exemplary jazz performance"
www.allmusic.com
"EXEMPLARY JAZZ PERFORMANCE"
"...Rohde ... has a way of integrating each instrument in the trio to create a single voice instead of making the piano the dominant vehicle. This makes the bass of Joe Carroll and Charlton's drums major players in the evolution of the composer's harmonic philosophy. Listen to how these three form a cohesive unit on such cuts as "Soft Sounds-Taste of Wine" without losing their individual identity.
--Dave Nathan
Complete Review

Recommended by www.allaboutjazz.com
Pianist and jazz patriarch Ellis Marsalis finds new ways to stretch and alto sax player John Peirce goes to town in this hot, inspired, live session recorded in Sparks, Nevada 1968. This session's alchemical spontaneity, the real essence of hot jazz, found the real spark in Sparks!
Ellis Marsalis, piano
Jim Haden, bass
Lee Charlton, drums
Chuck Foster, trumpet
John Peirce, alto sax
To Order Afternoon Session
"John Peirce's alto sax artfully combines Coltrane with Charlie Parker...[and]...the rhythm section takes an active role, al la the John Coltrane Quartet and the Miles Davis small groups."
--Dave Nathan Complete Review
HOT JAZZ !
"The real, living art, in which the performer meets his true test, is hot jazz, which finds its best expression in the jam sessions, in which musicians from all sorts of bands join and play together without any former preparation or rehearsal. The imperative requirement of such a session is to improvise, and out of the general excitement to rise to a frenetic acme of realization."
--Robert Goffin, translated by Walter Schaap and Leonard G. Feather*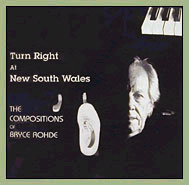 " ... Remarkable, brilliant, original. ...It will startle, amaze, surprise and charm you."


Lucky patrons of San Francisco's upscale jazz venue Bix get a monthly treat to pianist and composer Bryce Rohde, long recognized as one of the "most influential" jazz artists Down Under. This CD is your chance to bring home Rohde's unique compositions in a refined, sophisticated performance.
Bryce Rohde, piano
Bruce Cale, bass
Lee Charlton, drums
Recommended by Dave Nathan at allmusic.com
To Order Turn Right at New South Wales
F E A R L E S S
I M P R O V I S A T I O N
This remarkable performance is highly influenced by jazz maverick George Russell's seminal "The Lydian Chromatic Concept of Tonal Organization for Improvisation." The Lydian Concept was integral at the composition stage as well, for Stop the Bus, Short Way Home, Dumbrille Was No Greek, plus the title song, each influenced by what Bruce Cale calls, "a fearless approach to writing music."