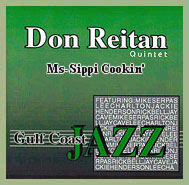 This CD is in some ways a landmark. It is a culmination of sorts of fifteen years of modern jazz on the Gulf Coast, and it shows musicians like Reitan, Charlton, and Orleanian Serpas to advantage. The charts and ensemble work are relentlessly funky, showing the influence of the Jazz Messengers and Horace Silver's groups. (Sister Sadie is one of the charts.) A nice tension is created as Charlton and Cave swing hard on top of the beat while the soloists are typically more laid back. Cave plays mainly an able supportive role here, although he came to be known also as a formidable soloist in New Orleans ... .
Six of the twelve tracks are originals, five by Reitan and one by Bell. Minority Report is Bell's piece, an engaging melody with well placed syncopations. Bell's tenor is a wonderful surprise. He has a dark sound that has a slightly hard edge, but he generally projects a cool feeling that is a fine foil for the burning rhythm section. Reitan writes ever-energetic lines (The Boss, All-American, Out and Out) and is fond of hot interludes that break up the feeling of yet another a-a-b-a, 32-bar jazz vehicle. His comping and solos are eclectic, ranging from an understated Tommy Flanagan-style bop on All-American to pianistic gutbucket on Sandcrab Blues. In the latter he works hand in glove with Charlton, who demonstrates throughout the CD a thorough rapport with the soloists. Charlton's own solos are well-sculpted along the lines of Jimmy Cobb.
Serpas, always a normative player at jam sessions, shows his adaptability in a tightly organized group. Solo space is somewhat rationed, the longest track being almost nine minutes (More Than You Know, played at an excruciatingly slow 45 beats per minute). Serpas told me that the CD does not feature the band's best all-out jazz work. Tracks like Poinciana and Lover bear him out, yet he soars on the up-tempo Out & Out and is outstanding on loping, down-home renditions of Somebody Loves Me and Shoo Fly Pie and Apple Pan Dowdy. His soulful, original style is in evidence on the two standards, bringing to mind (to my mind, at least) that if Bix had lived to play modern jazz, on a good day he would have sounded like this. These two tracks are the only vocals on the CD. A marvelous Floridian named Jackie Henderson, later married to Serpas, is up to the task of the slow-paced Somebody, and Serpas tweaks Shoo Fly with fine wit.
from Jazz in New Orleans: The Post-War Years through 1970
by Charles Suhor, Scarecrow Press, 2001

To Order Ms-Sippi Cookin', Volume I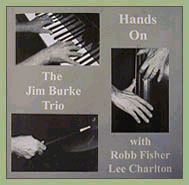 Although a native New Yorker, it was in Chicago that Jim Burke honed his pianistic skills playing with the likes of violinist Johnny Frigo and others. Moving to San Francisco in 1982, he quickly made a name in that city's jazz community. This inaugural CD is a stage for his stylish elegance as the music flows from his piano like a rippling stream, clean, bright and breathtakingly beautiful. No matter the genre or tempo, whether the blues as on Ahmad Jamal's Nite Mist Blues or a waltz on I Have Dreamed from the King and I, or an intense Sometime Ago, Burke's piano brilliantly captures that all the music has to offer. He gets some help from his friends on this session. Bass player Robb Fisher is no silent partner in this trio. His plucked bass creates some interesting under tones to Burke's piano. On Like Someone in Love, the bass is placed closed to the mike so Fisher's musings are not drowned out by the keyboard. Thus, the listener gets the full effect of improvisions Fisher is creating over the melody line. Nice stuff! Here's That Rainy Day is handled as delicately as one would a valuable piece of art. Although Burke and Robb get the lion's share of visibility, Lee Charlton gets in a lick or two on such tunes as Miles Davis' jazz classic All Blues. Otherwise his steady hands at the drums is the steering wheel that keeps the session from going off the road.
As indicated earlier, this is Burke's first recording. Regrettably, it's also his last since sadly he passed away shortly after it was cut. Hands On is piano trio playing at its finest and a fitting legacy for this sensitive and talented piano player.
Track Listing: Sometime Ago; Like Someone in Love; Nite Mist Blues; Luck Be a Lady Tonight; Some Other Time; All Blues; Here's That Rainy Day; Estaté; Matchmaker; Dreamsville; Summer Me, Winter Me; I Have Dreamed; Shining Sea; What the World Needs Now is Love
Personnel: Jim Burke - Piano; Robb Fisher - Bass; Lee Charlton - Drums
--Dave Nathan
www.allaboutjazz.com
To Order Hands On
Direct from London's Al Merritt:
Forty years on and this recording has finally seen light of day--and deservedly so! This quintet, just a notch off the top quality of the time, enjoyed working together, a fact that is apparent in the enthusiastic playing on this recording.
Clearly the late Don Reitan was the guru who headed up this group of young players and it is a great pity that he isn't around to join in the rewards following the release of this music. Reading the sleeve notes makes one jealous not to have experienced all the exciting happenings that were part of the musical activity these six musicians lived through back in 1957. The music itself varies between lowdown blues and uptempo bebop with the outstanding contribution being made by the superb playing of trumpeter Mike Serpas. The rest of the team are all talented and help to make the recording a worthwhile release.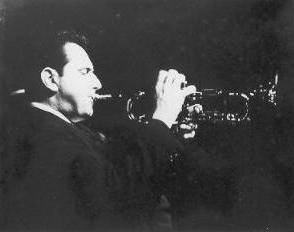 Mike Serpas on Trumpet
It is often too easy to live on the past memories of the Jazz greats and whereas this band didn't aspire to that title, they certainly made their contribution to the scene, which is no less important than the master recordings of the past.
--Al Merritt
U.K. Jazz London, England
www.jazznow.com

To Order Ms-Sippi Cookin' - Volume I
The circumstances surrounding this session which took place more than 30 years ago are illuminating. Drummer Lee Charlton struck up a friendship with Ellis Marsalis, patriarch of the famous jazz family, while in New Orleans. In 1968, Marsalis notified Charlton he was coming to Nevada with New Orleans trumpeter Al Hirt's band. Marsalis and three other members of the Hirt outfit collaborated with Charlton to record a tape which gathered dust until last year when it was released.
The music on the album emphatically is not the kind to be found in Hirt's band book. No disrespect to Hirt, but I suspect the players were eager to get a break from tunes like "Way Down Yonder in New Orleans" and "Beale Street Blues". The result is an album of music with a decidedly modern bent showing the influence of the revolutionary style of John Coltrane. John Pierce's alto sax artfully combines Coltrane with Charlie Parker on such tunes as Embraceable You and Broadway. The melody line comes in the first chorus and from then on all bets are off as the chords from these two standards are twisted and tuned in an improvisional frenzy. Chuck Foster on trumpet is a willing partner with Pierce in this undertaking.
The rhythm section takes an active role, al la the John Coltrane Quartet and the Miles Davis small groups. Led by Marsalis, drummer Lee Charlton and bass player Jim Haden, Charlie's older brother, lay out their ideas on virtually all cuts, most persuasively on No Clues, Minor Blues where Charlton lets loose with a veritable AK-47 barrage on drums. This is one CD where some may want to take in small doses, but it's worth the time. Recommended.
Track Listing: Impressions; No Clues, Minor Blues; Broadway; Embraceable You (Old Folks); 12's It; Song for Nancy; Joy Spring
Personnel: Ellis Marsalis - Piano; Jim Haden - Bass; Lee Charlton - Drums; John Pierce - Alto Sax; Chuck Foster - Trumpet
--Dave Nathan
www.allaboutjazz.com
To Order Afternoon Session
And from Cadence Magazine's music critic Larry Nai:
Music in the Vines deserves praise for releasing Ms-Sippi Cookin'. Lee Charlton, drummer in the quintet led by pianist Don Reitan on this 1961 gig recording, had the tapes of the engagement in hs possession for 38 years, and some heartfelt comments in the insert, from a few of the principals, attest to the music's durability. A cooking, simpatico band in the Jazz Messengers tradition, Reitan and company hit impressively with the leader's Silverish The Boss. Sandcrab Blues is for piano-bass-drums, and nicely recalls some of the sweaty performances Oscar Peterson's trio was recording around the same time. Minority Report is a fine, Wayne Shorter-ish tune by Rick Bell; his tenor solo is tough and hard, and the tune's spaces allow one to hear how tight this band was. Jackie Henderson does vocal duties on Somebody Loves Me and Lover--she's good, too, something of a tonal cross between Doris Day and Anita O'Day. The quintet's backing, while enthusiastic, sounds perfunctory--they obviously wanted to get back to their own thing, which they do after giving the lady the spotlight for six minutes. The other 64 minutes show that they did, indeed, have a "thing." Recommended to fans of the above reference points, who may, like myself, find themselves hoping for more glimpses of the Reitan Quintet in the future.
Larry Nai
Cadence Magazine
May, 2000, pp.131, 133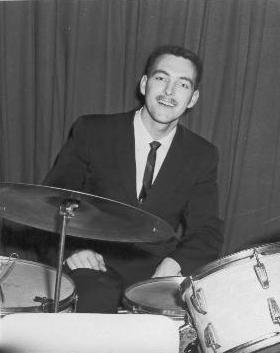 Lee Charlton at the DownBeat
Biloxi, Mississippi, c. 1958
To Order Ms-Sippi Cookin', Volume I
If you've ever gone to see Sara & Swingtime live, perhaps in the Terrace Room at the Claremont Hotel, you've no doubt had a marvelous time. The delicious surprise of playing their CD, Swing is the Thing (recorded live at the Claremont a little over a year ago), is that, away from the cocktails and laughter ... their music sounds even better! This is a first-rate small band, playing well chosen songs, mostly from the 1930s, with craftsmanship, verve, wit and fun.
At the center of it all is the beautiful and talented (I can't help saying it; it's so true!) Sara Klotz de Aguilar, bandleader, pianist and singer. A natural, mostly self-taught musician, Sara feels her piano style is most inspired by Teddy Wilson's recordings of the mid-'30s. Other influences suggest themselves--Jelly Roll Morton, early Earl Hines--but the whole effect is original: clean, sprightly and swinging, with both lyric delicacy and percussive power.
Wit and humor come through often, in musical quotes--why not a bit of Londonderry Air in the middle of All of Me or a snatch of circus music in You're the Cream in My Coffee--as well as the occasional ad lib or customized verse. Sara could get by on pure charm as a vocalist--but she's also got one hell of a voice: effortlessly big, it never sounds forced, throughout a wide range from clear soprano to rich deep mezzo. Her dynamic and emotional range is equally impressive, from the haunting melancholy of Lullaby of the Leaves to a brassy growl on "Big City Blues. Clean diction, pure vowel sounds, distinct pitch and moderate vibrato give her vocals a classic quality, while still packing a jazzy punch; the effect is reminiscent of some of the best singers of the period, while embodying a distinct and delightful personality.
The eclectic Nik Phelps, known for his experimental work in the Sprocket Ensemble as well as all sorts of wacky and wonderful projects over the years (like hot cartoon jazz for a series of new Felix the Cat shows a few years back), plays saxophone and clarinet, trading inventive and accomplished solos with veteran cornetist Bob Schulz. St. Louis Blues features a particularly diverse display of musical coloration, with moody orientalisms in the tango section. Richard Saunders on bass and Lee Charlton on drums provide rhythmic support throughout, full of momentum and drive without heavy-handedness.
From the opening track, Cheek to Cheek, with its swirly, dancelike sense of movement and warm, 'heavenly' vocal, the CD offers a fine selection of tunes, mixing rarities with perfect readings of classics (You Turned the Tables on Me and Let´s Call the Whole Thing Off are particular high points). The set ends with Please Don't Talk About Me When I'm Gone, but Sara & Swingtime are too good not to get talked about, for a long time to come!
--Alice Jurow
The Sophisticate, Autumn 2000
To Order Swing is the Thing