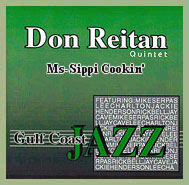 Rated 4 stars by allmusic.com
This long-awaited release of the Don Reitan Quintet exults in the spirit of early '60's Gulf Coast jazz, when the scene was truly happening! A great performance recorded live at Chez Joey by:
Don Reitan, piano
Jay Cave, bass
Lee Charlton, drums
Mike Serpas, trumpet
Rick Bell, tenor sax
and featuring Jackie Henderson on vocals.
Kudos for Cookin' !
"Serpas ... soars on the up-tempo Out & Out and is outstanding on loping, down-home renditions of Somebody Loves Me and Shoo Fly Pie and Apple Pan Dowdy ..."
"...if Bix had lived to play modern jazz, on a good day he would have sounded like this."
--Jazz Historian Charles Suhor
Complete Reviews
To Order Ms-Sippi Cookin', Volume I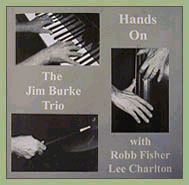 The Jim Burke Trio offers a stunningly beautiful collection of jazz standards in the styles of George Shearing and Ahmad Jamal. These most elegant interpretations of popular tunes are the culmination of ten years' great chemistry between
Jim Burke, piano
Robb Fisher, bass
Lee Charlton, drums
On Jim Burke:
"... the music flows from his piano like a rippling stream, clean, bright and breathtakingly beautiful."
--Dave Nathan
www.allaboutjazz.com
Complete Review
To Order Hands On

The Jim Burke Trio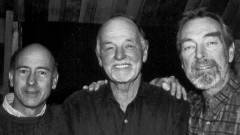 "Hands On is piano trio playing at its finest... ."
--Dave Nathan
www.allaboutjazz.com Complete Review