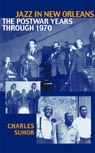 Alive with insight, this first-rate volume reveals jazz history never before told. Drummer and jazz historian Charles Suhor captures a time and place in a richly detailed narrative that weaves his own experience as a participant in the New Orleans jazz scene with previously unpublished photos and engaging articles originally written for DownBeat and other publications.
Suhor's special gift is a well-tuned ear for music that matches a well-trained ear for a well-turned phrase. His storytelling balances beautiful lyricism with economy of style, and is highlighted by fresh anecdotes from the players themselves. Suhor the scholar and journalist also successfully blends the distance of cogent analysis with the immediacy of close-up observation of the players, the bands and the forms of jazz (traditional, bebop, modern, swing), and how they all interrelated. He introduces the reader to hundreds of players who have never seen their names in print among many who have, including: Al Belletto, Ellis Marsalis, Earl Palmer, Ed Blackwell, Joseph (Mouse) Bonati, Al Hirt, Pete Fountain, Bill Huntington, Don Reitan, Lee Charlton, Joe (Cheeks) Mandry, Benny Clement, Alvin Batiste, Irving Fazola, Harold Battiste, Don Suhor, Buddy Prima, Fred Crane and Richard Payne.
To order Jazz in New Orleans, go to Scarecrow Press, and enter "Suhor" in QuickSearch
Accolades for
Jazz in New Orleans: The Post-War Years through 1970
by Charles Suhor
---
"A great book on New Orleans jazz from a musician who lived the history. Finely detailed, from the delineations of jazz folks to the turns in the music to the po'boy sandwiches and beer, this entertaining account is both lively and true to the times."


--Sybil Kein, New Orleans historian, poet, performer




" ...Suhor speaks with both authority and immediacy."


--Thomas A. Sancton, New Orleans jazz clarinetist, Paris Correspondent TIME Magazine
This distinguished volume is the definitive work of pianist-composer Bryce Rohde. In 1953, Rohde helped found the Australian Jazz Quartet/Quintet, which recorded ten albums and toured widely in Canada and the U. S. with Oscar Peterson, Miles Davis, Stan Getz, Woody Herman, Count Basie, Art Blakey, George Shearing, Dave Brubeck and many others. Rohde was recognized as one of the "most influential" jazz artists when he formed the critically acclaimed Bryce Rohde Quartet in Sydney in 1958. Since moving to the States permanently in '65, Bryce has performed widely and composed over 60 jazz originals, now available in this volume.
To order either the CD or book of charts entitled: Turn Right At New South Wales
The Lydian Concept in Living Color

"The Lydian Concept gives me, as a performer, the latitude to stretch further, to move into uncharted domains as I improvise ... As it frees my performance, it also frees me to compose in that I am no longer limited by an allegiance to certain chromatic scales--as long as I can relate a note, a chord, a phrase to a parent, I can be certain that it will work."

--Bryce Rohde