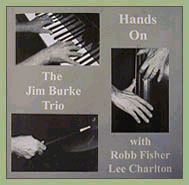 The Jim Burke Trio offers a stunningly beautiful collection of jazz standards in the styles of George Shearing and Ahmad Jamal. These most elegant interpretations of popular tunes are the culmination of ten years' great chemistry between
Jim Burke, piano
Robb Fisher, bass
Lee Charlton, drums
On Jim Burke:
"... the music flows from his piano like a rippling stream, clean, bright and breathtakingly beautiful."
--Dave Nathan
www.allaboutjazz.com
Complete Review
To Order Hands On

The Jim Burke Trio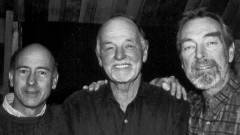 "Hands On is piano trio playing at its finest... ."
--Dave Nathan
www.allaboutjazz.com Complete Review
Sara Klotz de Aguilar, who first made her name as a talented Bay Area soloist, now leads Swingtime, a lively band that captures the style and heart of 30's and 40's jazz. Inspired by the Teddy Wilson recordings of the mid-1930's, Sara's piano and lively vocals on familiar tunes make it hard not to sing along! Includes Cheek to Cheek, Swing is the Thing, and St. Louis Blues.
Sara Klotz de Aguilar, piano, vocals
Richard Saunders, bass
Lee Charlton, drums
Bob Schulz, cornet
Nik Phelps, saxophone and clarinet
" ... the whole effect is original: clean, sprightly and swinging, with both lyric delicacy and percussive power."
--Alice Jurow
The Sophisticate, Autumn 2000
Complete Review
To Order Swing is the Thing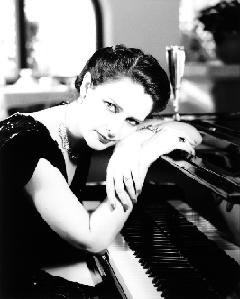 Sara Klotz de Aguilar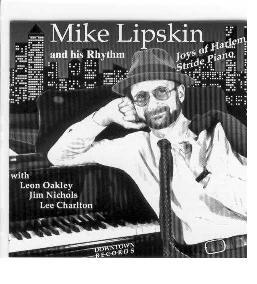 Mike Lipskin is one of those exceedingly rare contemporary jazz pianists who play Harlem Stride, the sound of Fats Waller, James P. Johnson, Duke Ellington, and Art Tatum. Learning at an early age from New York City stride masters, and now a master and internationally-recognized stride expert himself, he regularly delights Bay Area audiences with his own sparkling performances. This CD includes the first recording of Miami since 1926, along with four Lipskin original compositions.
Mike Lipskin, piano
Leon Oakley, cornet
Jim Nichols, guitar
Lee Charlton, drums
To Order Joys of Harlem Stride Piano
Strokes for Stride !
"Lipskin displays the virtues of technique, soul, freshness, and the spirit of youth in his flawless interpretations of Stride pieces."
Leonard Feather
Internationally known Jazz Critic